Stainless Steel Medical Trolleys
Ideal for medical and dentist surgerys, hospitals, schools, food preparation areas and any other environment that requires high hygiene.
Our Medical Trolleys are built to last, keeps your items secure and gives a smooth ride.
• Medical Trolleys are perfect for the transfer of clinical supplies and patient care.
• Easy-glide castors.
• High-grade stainless steel or polycarbonate.
• Easy-clean, hygienic surfaces.
• Rounded corners to lessen impact damage.
• Supplied flat packed, with simple assembly instructions and tools supplied.
Looking for a different size?
Give us a call on 1300 272 926 –
we will see what we can do.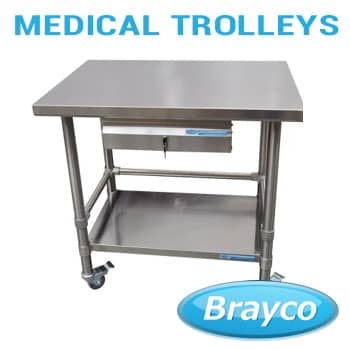 | Product Image | Product Name | |
| --- | --- | --- |
| | | |
| | | |
| | | |
| | | |
| | | |
| | | |
Importance of Medical Trolleys in Healthcare Facilities
The significance of
medical trolleys Australia
cannot be overstated in healthcare facilities. These carts serve as a central hub for medical supplies and equipment, ensuring that healthcare professionals have everything they need within arm's reach. By providing mobility and easy access to supplies, medical trolleys contribute to efficient workflow, reduce the time spent searching for items, and enhance patient care.
Types of Medical Trolleys
1. General Purpose Medical Trolleys General-purpose medical trolleys or
hospital trolleys
are the most common type and are designed for versatile use across different healthcare departments. These trolleys typically feature multiple drawers, shelves, and compartments for storing various medical supplies and equipment. They are ideal for general patient care, examinations, and minor procedures. 2. Medication Trolleys Medication trolleys are specifically designed to store and organise medications securely.
Medical equipment trolleys
often include lockable compartments and dividers to ensure proper medication management, reduce the risk of errors, and maintain patient safety. Medication trolleys are commonly used in pharmacies, nursing stations, and medication preparation areas. 3. Emergency Trolleys Emergency trolleys are essential in emergency departments and critical care units. These trolleys are equipped with specific compartments and trays to hold emergency medications, life-saving equipment, and resuscitation supplies. They are designed for quick and easy access during critical situations, allowing healthcare providers to respond promptly to emergencies. 4. Anaesthetic Trolleys Anaesthetic trolleys are specifically designed for anaesthesia administration and monitoring.
Medical Trolley Australia
is equipped with compartments for storing anaesthetic drugs, airway management equipment, monitoring devices, and other essential supplies. Anaesthetic trolleys are typically found in operating rooms and recovery areas. 5. Procedure Trolleys Procedure trolleys are designed to support specific medical procedures, such as wound care, dressing changes, and minor surgeries. These trolleys are equipped with specialised trays, holders, and attachments to accommodate procedure-specific instruments and supplies. Procedure trolleys streamline the preparation and execution of medical procedures, ensuring efficiency and organisation.
Features and Components of Medical Trolleys
Medical trolleys come with various features and components that enhance their functionality and usability. 1. Mobility and Manoeuvrability Medical trolleys are equipped with wheels, allowing easy movement and manoeuvrability within healthcare facilities. The wheels are designed for smooth and quiet operation, ensuring minimal disruption in patient care areas. Some trolleys have locking mechanisms to secure them in place when needed. 2. Storage Capacity and Organisation Medical trolleys offer ample storage capacity with multiple drawers, shelves, and compartments. The storage spaces are designed to accommodate different sizes and types of medical supplies and equipment. They often include dividers, trays, and holders to ensure proper organisation and prevent cross-contamination. 3. Ergonomics and User-Friendliness Medical trolleys are designed with ergonomics in mind to support the comfort and ease of use of healthcare professionals. They feature adjustable heights, handles, and accessories to accommodate the preferences and needs of users. The layout and accessibility of drawers and compartments are optimised for efficient workflow and quick access to supplies. 4. Durability and Cleanliness Medical trolleys are built to withstand the demanding healthcare environment. They are made from durable materials that are resistant to corrosion, impact, and chemicals. Additionally, medical trolleys are designed for easy cleaning and disinfection, with smooth surfaces and removable components that can be sanitised thoroughly.
Best Selling Medical Trolleys
| Product Name | Product Description |
| --- | --- |
| Commercial Grade Stainless Steel Medical Trolley, 762 x 762 x 900mm high | This trolley is made from 304-grade stainless steel, making it durable and ideal for the transfer of clinical supplies in medical environments. Additionally, there are options available to include extra shelves or to change to screw down feet, allowing for customization to meet specific needs. |
| Commercial Grade Stainless Steel Medical Trolley, 914 x 610 x 900mm high | Made from high-quality stainless steel, this trolley is suitable for use in medical and dental surgeries, hospitals, schools, food preparation areas, and many other settings where a sturdy and hygienic trolley is required. |
| Polypropylene Trolley, 3-Tier With Castors, 890 X 510 x 845mm high | The trolley features easy-to-clean polypropylene trays, making it ideal for use in a range of settings, including commercial kitchens and healthcare facilities. |
| Heavy Duty Stainless Catering Trolley | The Heavy Duty Stainless Catering Trolley is a high-quality and durable product that is ideal for use in a range of settings, including kitchens and hospitals. Built with 2 layers of 1mm thick Food Grade 304 Stainless Steel and comes with lockable castors making it easy to move around and secure in place. |
| Heavy Duty Stainless Steel Trolley | The Heavy Duty Stainless Steel Trolley is the crème de la crème of steel trolleys, designed to provide a reliable and durable solution for transporting items. With 3 x stainless steel trays that are 1mm thick and made from 304 food grade stainless steel, this trolley is built to last and is suitable for use in a range of settings, including commercial kitchens and healthcare facilities. |
In need of premium medical trolleys? If you need medical-quality trolleys, we have got you covered! We have a variety of hygienic clinical trolleys suitable for use in any healthcare facility. Our trolleys are constructed from durable materials and made to last through daily use. Brayco recognises the importance of high-quality medical equipment in delivering excellent treatment to patients. For that reason, we have many medical trolleys and instrument trolleys for clinical applications. Our medical trolleys are built from premium materials and tailored to the needs of medical professionals.
Stainless Steel Trolley With One Drawer and Undershelf
Food grade 304 stainless bench top, stainless undershelf, castors and a single lockable drawer. The height of the undershelf is adjustable to suit your needs. Stainless Trolley for medical and dentist surgeries, hospitals, schools, food preparation areas and many other useful applications.
Why Should Medicine Trolleys Have To Be Able To Be Locked?
Medical trolleys and carts must be lockable to prevent theft or tampering with the trolley's contents. It helps to ensure that only authorised personnel have access to the trolley and its contents.
Why Should Medicine Trolleys Be Made From Appropriate Materials?
There are many reasons why medicine trolleys should be made from appropriate materials. Firstly, medicine trolleys must be made from materials that can be easily cleaned and disinfected. This is because they will come into contact with many different people and surfaces, so it is important to minimise the risk of cross-contamination. Secondly, the material must be durable and robust enough to withstand daily use. This is because medicine trolleys will be used daily, and so they need to be able to withstand a lot of wear and tear. Finally, the material used must be lightweight and easy to manoeuvre. This is because medicine trolleys will often need to be moved around a lot, so they mustn't be too heavy or difficult to move.
Are Brayco Medical Carts Good Product?
Yes, Brayco's signature
stainless steel medical trolleys Australia
are good. They are sturdy and well-built, and they have a variety of features that make them ideal for use in medical settings. They are easy to clean and disinfect, and they have plenty of storage space for medical supplies.
Looking For Trolley Supplier Online? You can find a range of trolleys at Brayco - Australia's leading stainless steel supplier including trolleys for commercial kitchens, hospital, laboratories, health clinics, catering services and other storage facilities. Buy medical trolleys here now and have the product delivered anywhere in Australia. Back to Top:
Medical Trolleys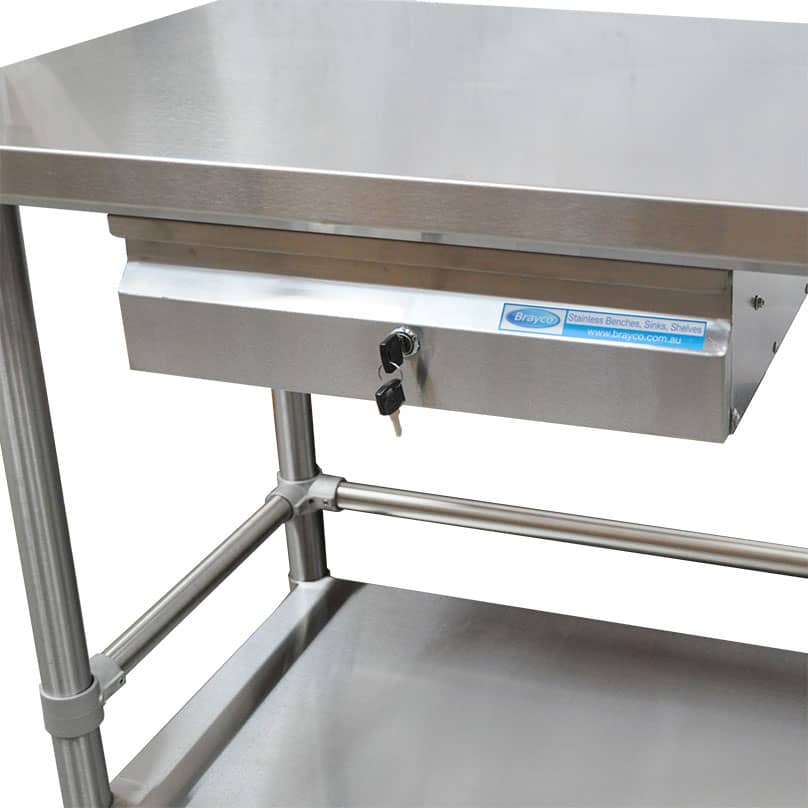 Code
Product
Length
(mm)
Depth
(mm)
Height
(mm)
Price
(inc GST)
Qty