Wall Mounted Cabinets
Add Wall Cabinets For An Instant Kitchen!
• Fully assembled construction.
• 2 Sliding doors.
• 1 internal shelf, adjustable height.
Need some help planning how you can set up your kitchen with the best combination of cabinets? 
Give us a call.  We love nutting out a challenging space.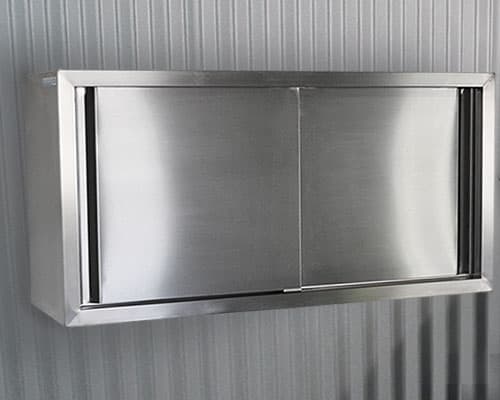 Small Stainless Steel Wall Mount Cabinet
This wall mount cabinet is perfect for holding your kitchen utensils or tools. The stainless steel finish will complement any kitchen theme, while the convenient fold-out shelf makes it easy to store larger utensils without any risk of them falling off. The cabinet also features two hooks so you can have it nicely displayed without any hassle.
Stainless Steel Wall Mounted Kitchen Cabinets
A wall mounted kitchen cabinet with a stainless steel finish is a great way to add more kitchen storage to your home! This cabinet is sure to complement any kitchen or bathroom! It has room for kitchen tools, spices, or bathroom products! It's easy to install and comes with mounting hardware. This cabinet will match any decor and will fit flush against any wall!
How do you mount wall cabinets to the wall?
Screw or ledger the corner wall cabinet in place. If the cabinet isn't plumb, use shims at the stud lines between the cabinet and the wall and adjust as needed. Drill and countersink two holes in each of the cabinet's mounting rails, then drive two 1/2-inch cabinet screws through them.
Can you mount wall cabinets without studs?
No, most cabinets aren't centred on studs. Ensure that the proper screws are used. Clamp the other cabinets together after lining them up and levelling and putting tiny screws in the front edges of each cabinet to hold them all together and aligned them up. 3″ preferable toward the tops primarily where sheer weight is, then clamp the other cabinets together after aligning them up and levelling.
Can I mount wall cabinets on drywall?
The wall is dressed up with cabinets that are firmly mounted from the drywall. You may save a little money on cabinet installation by hanging cabinets yourself. Lower-cabinet installation is simple; place the cabinets where you want them and secure them to the wall or floor.
back to top: Wall Mounted Cabinets

Code
Product
Length
(mm)
Depth
(mm)
Height
(mm)
Price
(inc GST)
Qty
WALLCAB900

900

380

600

Price: $499.00

WALLCAB1200

1200

380

600

Price: $569.00