76 cm Replica Tolix Bar Stool – Black
Tolix Stool is originally designed in 1934 for its strength rather than style, the Tolix replica bar stools has become a popular choice for home and commerce.
Chairforce have now sold over 50,000 replica Tolix stools in Australia so you've probably already sat on a Tolix stool! This stool is a light weight, stackable option that is easy to maintain.
Dimensions:
Seat: 30.5 x 30.5 cm
Seat height: 76 cm
Footprint: 42 x 42 cm
Specifications of Tolix Bar
Floor safe. Generously thick rubber feet are securely attached to the legs to protect your floors from scuff and scratches.
Stackable. Our Tolix replica bar stools are light-weight and stackable. Perfect for cafe and commercial use.
Supplied Assembled. Supplied fully assembled and ready to go! Our replica Tolix stools feature expertly welded seams and the original cross bar support for extra strength.
Strong. X-shaped reinforcement bar under the seat – an original feature of the Xavier Pauchard design Premium powder coated steel frame.
Tolix Stools – Brayco's Xavier Pauchard Replica Tolix Bar Stool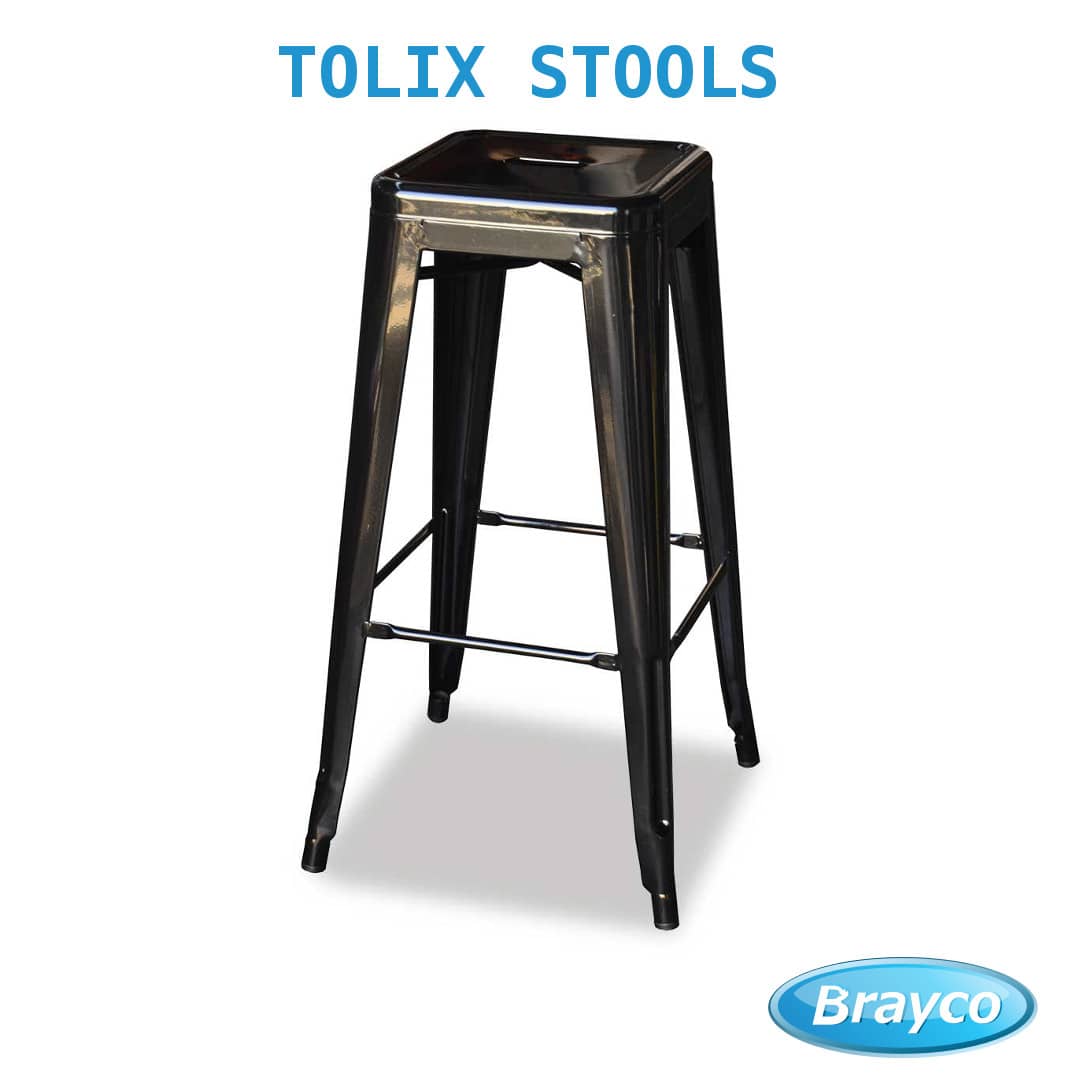 Check out Brayco's replica of Xavier Pauchard Tolix Stools. Tolix stool replica has become a staple of industrial application due to their functional design and ease of use. Xavier Pauchard Tolix Stool – the metal chair found in every cafe and restaurant all around Australia.
Are tolix bar stools comfortable?
Despite their solid look and the fact that they are entirely made of brayco's signature steel, the Tolix stools are surprisingly comfortable. They're excellent bar stools with perfect height, and they add instant vintage charm to any space.
Are tolix stools stackable?
Yes, tolix stools are stackable for easy storage and they're light, suitable for indoors and outdoors settings. Tolix stools has been the go-to bar stools because of its sleek stainless steel look and its functionality.
What is the purpose of tolix stools?
There is no one–size–fits–all answer to this question, as the purpose of tolix stools can vary depending on the specific needs of the individual or business. However, some common reasons for using tolix stools include providing additional seating in a small space, adding a pop of color or style to a room, or creating a more industrial or rustic aesthetic.